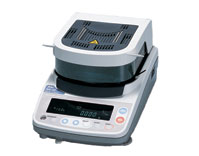 A&D offers you to opt for the best moisture analyser for your application. With a wide range of models, it also incorporates excellent features suitable to your needs.
The analysers integrate a straight halogen lamp and uniquely designed SRA (Secondary Radiation Assist) filter that gives a shorter measurement time. Thanks to its fast and uniform heating ability.
The moisture analyser assimilates first-rate SHS (Super Hybrid Sensor) as the weight sensor. It makes possible determination of ultra-accurate moisture content; based on high precision weighing of even a small sample.
A convenient operating guide is installed at the bottom of the analyser. To add on the analyser also consist detecting function available with temperature control, a translucent window for checking heating process. Standard RS-232C feature permits bi-directional communication connecting to a PC or directly to a printer.
With its WinCT- Moisture Software, data measured by the moisture analyser can be easily displayed on your computer. It is effective for determining measurement conditions such as heating temperature and also beneficial for reducing the time needed for measurement and improving accuracy.
MS-70 one the models, measures the moisture content at 0.001% resolution suitable for low moisture content samples as well as Karl Fisher method requiring no special knowledge or training. It is efficient and produces no harmful waste.
There are no reviews yet.